Summary of important infos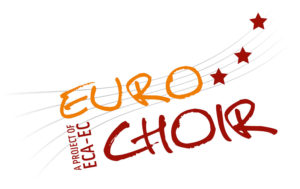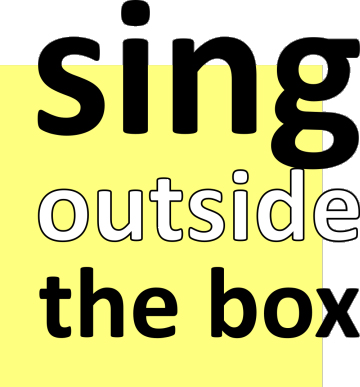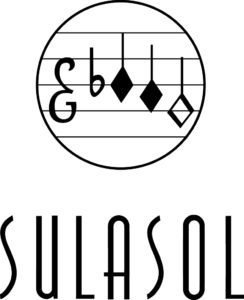 The EuroChoir Project
EuroChoir is a unique choral event organized by the European Choral Association – Europa Cantat in cooperation with a local partner every year in a different country. Initiated by AGEC in 1982, EuroChoir offers the opportunity to 60 young singers to get together for 8 days to rehearse a challenging program with two renowned conductors, improve their vocal skills with a vocal trainer and present the results of their work in public concerts. This special choir project aims to promote European choral music among young singers and to encourage cultural exchange within Europe.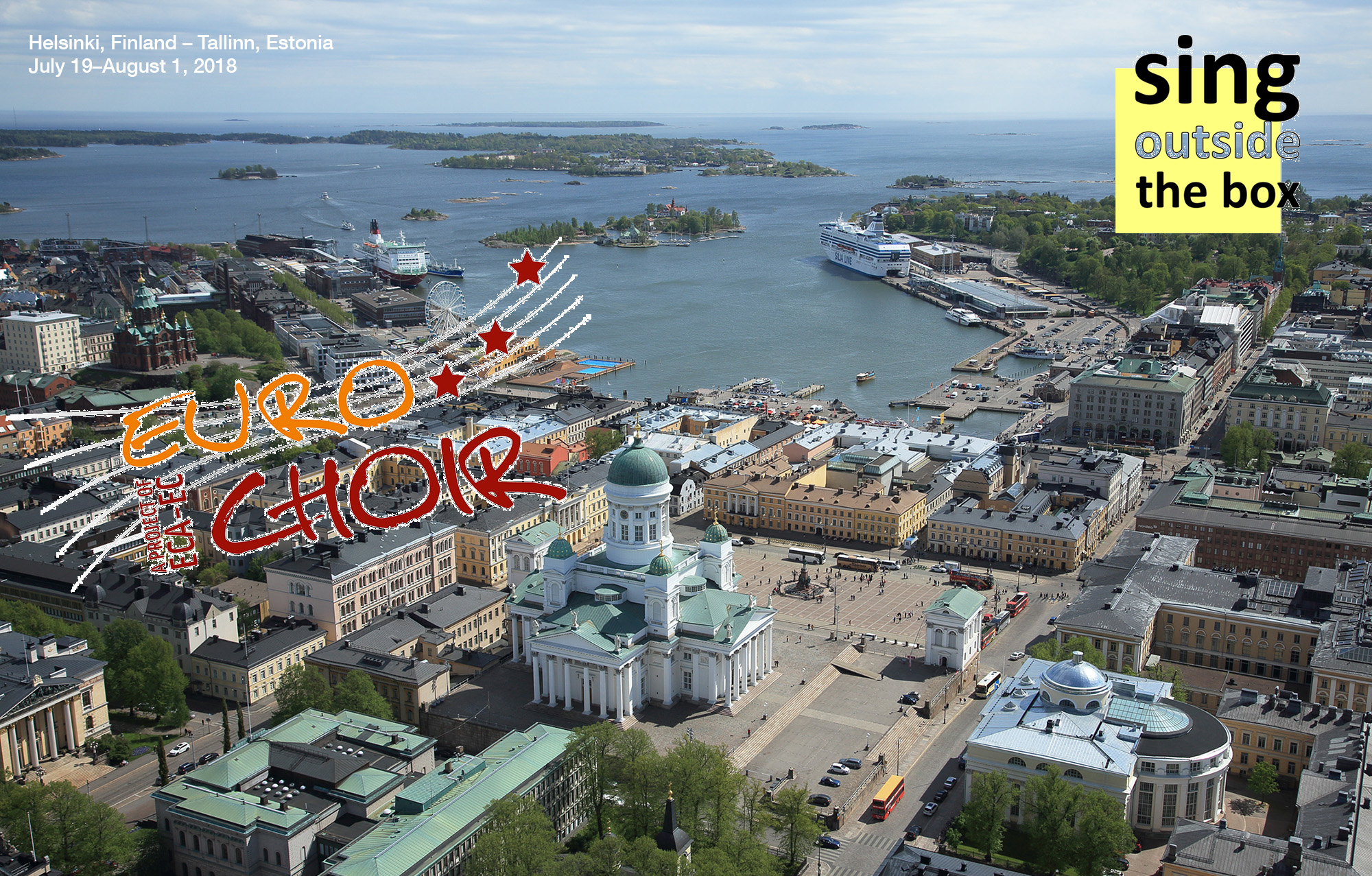 EuroChoir 2018
The EuroChoir 2018 will take place in Finland and Estonia, and it is part of the EU-funded "Sing Outside the Box" project. The singers will rehearse and perform in Helsinki (Finland) before joining the EUROPA CANTAT XX festival in Tallinn (Estonia) for the final concerts.
Where and when?
Helsinki (Finland) 19 – 27 July, 2018
Tallinn (Estonia) 27 July – 1 August, 2018
The Choir will travel together from Helsinki to Tallinn by ferry on Friday 27 July.
After the concerts in Tallinn (Aug. 1), the participants are free to leave directly from Tallinn OR go back to Helsinki and leave from there OR stay at the Europa Cantat festival to its end.
Helsinki is easily reachable by plane. The airport (Helsinki-Vantaa) is located about 20 km north from the city centre. There are frequent bus and train connections to the centre of Helsinki as well as taxis available.
You can also arrive by ferry/boat from Sweden, Estonia, Germany, Poland and Russia.
Arrival also by car is possible: you can take car here by ferry or drive from Sweden, Norway and Russia.
INFO ABOUT HELSINKI: https://www.myhelsinki.fi/en/info
Tallinn is located about 80 km south of Helsinki and there are frequent ferry and ship connections between the two cities.
INFO ABOUT TALLINN: https://www.visittallinn.ee/eng
Conductors
Maria van Nieukerken (The Netherlands)
Maria van Nieukerken is the artistic director and conductor of the professional chamber choir PA'dam, Toonkunst Rotterdam and Toonkunst Rotterdam Chamber Choir. Because of the combination with other disciplines during her concerts she makes strong connections between performers and public. Maria has performed on several international stages with renowned choirs and orchestras, she works as an international adjudicator and is a member of international music commissions. She offers workshops for singers and choirs and for companies. In 2001-2012 Maria was the conductor of the Netherlands Student Chamber Choir. She has been a guest conductor e.g. of The Gents, Couleur Vocale and the Amsterdam Bach Consort. Maria is also an assistant conductor of Collegium Vocale Gent. Maria has studied choral conducting with Daniel Reuss, Marcus Creed, Jos van Veldhoven, Paul van Nevel, Hans van der Hombergh and Mark Shapiro (NY). In 1999 she completed the Internationale Meisterkurs Chorleitung by Eric Ericson in Germany and in 2003 she followed a masterclass by Uwe Gronostay and Helmut Haenchen. In 2004 Maria was awarded the Baerenreiter Urtext Preis during the International Competition for Young Conductors in Vienna.
Mikko Sidoroff (Finland)
Mikko Sidoroff (b. 1985) is a choral conductor and composer from Helsinki, Finland. He graduated from the Sibelius Academy in 2011 as Master of Music and has been working as a conductor, composer and music editor since 2002. Sidoroff has composed numerous works for different choirs and conducted many first performances. He currently resides in Mannheim, Germany. This year, he will work as guest conductor of the Euro Choir (European Choral Association), as choral conducting teacher at the Bundesakademie, and as artistic director of the Krysostomos Chamber Choir, which he founded in 2003. In addition to music, he also works as a yoga teacher.
mikkosidoroff.com
Repertoire
with Maria
Bob CHILCOTT: A little jazz mass
Peter CORNELIUS: Requiem – Seele, vergiss sie nicht
Carl NIELSEN (arr. John Höybye): Saenk kun dit hoved du blomster
Aulis SALLINEN: The beaufort scale
Rudi TAS: Nulla vita sine musica
Spiritual: Plenty good room
Other pieces to repeat from EuroChoir 2017:
– Rathbone: Joshua fought the battle of Jericho
– Chilcott: Weather report (challenging, takes a lot of time)
Perhaps a piece for SA and for TB
with Mikko
Lasse MÅRTENSON: Stormskärs Maja
Edvard GRIEG: Våren
Jaakko MÄNTYJÄRVI: Canticum calamitatis maritimae
Sven-David SANDSTRÖM: To see the World
Trad. – arr. Jonathan RATHBONE: Vem kan segla förutan vind
Moses HOGAN: I'm gonna sing till the Spirit moves in my heart
Heinrich SCHÜTZ: Vasto mar
Program, schedule and concerts
19.7.2018 (Thursday)
– singers arrive in Helsinki, hopefully before dinner in order to meet each other yet in the evening
20.7.2018 (Friday)
– the project starts
22.7.2018 (Sunday)
– 20.00 concert with about 25-30 minutes singing in the Cathedral of Helsinki at the "Evening Music" concert series
25.7.2018 (Wednesday)
– a longer performance at the Helsinki main railway station, (= ca. 4 pieces)
26.7.2018 (Thursday)
– 19.30 main concert at Temppeliaukio Church ("Rock Church"),
+ DAILY mini performances at the main railway station of Helsinki.
27.7.2018 (Friday)
– in the morning the choir & conductors take a boat to Tallinn
27.7.-1.8.2018
– concerts and other performances (+ rehearsals) in Tallinn in connection to the Europa Cantat festival
Accommodation
In Helsinki the accommodation for the choir will be at Eurohostel (Linnankatu 9, 00160 Helsinki) www.eurohostel.fi
In Tallinn the choir will be accommodated at Hotel Dzingel (Männiku tee 89, Tallinn) www.dzingel.ee/en
Participation fee
| | | | |
| --- | --- | --- | --- |
| Country group | Direct members | Indirect members | Non-members |
| 1 | €260 | €280 | €290 |
| 2 | €195 | €210 | €210 |
| 3 | €195 | €210 | €210 |
Participation fee includes all the activities, accommodation, travel costs during the project and meals. The travels to Helsinki and return travel either from Tallinn or Helsinki are at participants' charge.
Country groups are found below. In case of doubt of which group your country belongs to, please contact us (eurochoir2018@sulasol.fi).
Country group 1: AT, BE, CA, CH, CY, DE, DK, ES, FI, FR, IE, IL, IS, IT, LU, NL, NO, SE, UK, US
Country group 2: CZ, EE, GR, LT, LV, MT, PT, SI, SK and some overseas countries.
Country group 3: AL, AM, BA, BG, BY, HR, HU, MD, ME, MK, PL, RO, RU, TR, UA.
Direct members: If you or your choir are direct member of ECA-EC.
Indirect members: If you or your choir are a member of a choral organisation in your country which is a member of the ECA-EC in country groups 1 and 2.
Please note that you can apply for the Noël Minet Fund Scholarship that covers between 250€ and 500€ of your expenses.
Payment
When your application is approved, you will receive an e-mail with further instructions on paying your tuition fee.
SULASOL, IBAN: FI44 1745 3000 0090 60, BIC: NDEAFIHH
Please add reference SING OTB together with your payment!
APPLICATION
Deadline for applications was 31/3/2018. We have received 66 applications from 23 countries. You can inquire about the possibility of post-registration via email eurochoir2018@sulasol.fi
Who can apply?
18-30 years old choral singers, who are good sight readers and will prepare the scores in advance. Since the choir is international, it is also important to be able to speak and understand English.
How to apply?
Prepare the requested documents:

Short bio
Photo
Letter of recommendation
[optional] letter of support form a choral organisation
Audio/video file of the mandatory recording

Fill in the application form
Application through a Choral Organisation member of ECA-EC
Singers should as far as possible be pre-selected by member organisations of the European Choral Association – Europa Cantat, ideally in SATB quartets, or apply with a letter of support from a member association. Please note that in case of equal quality applications the one that was sent through a Choral Organisation will have priority on the individual. Applying through a Choral Organisation does not mean that the application will be automatically successful.
Contact a Choral Organisation member of ECA-EC (on the ECA-EC website you can find the list and the contacts) explaining that you want to participate in the EuroChoir as a singer selected by them. The organisations have different selection procedures, so please check directly with them how to proceed to submit your application making sure they will provide you with a recommendation letter to upload while applying for the EuroChoir.
Application as an independent singer
You can fill in the application form and provide the requested documents.
The more countries represented, the more enriching the experience will be for the singers. Since we want to give as many singers as possible the opportunity to participate, singers that have already participated in more than three editions are moved down on the list automatically.
The mandatory recording
To help the selection committee choose the singers, we kindly ask you to provide us with an audio or video solo recording of the following piece: "To see a world" by Sven-David Sandström (Gehrmans Musikförlag, Stockholm, GE11328). Record your part, from bar 9 to the end, a cappella. Send your file or a link to it through the application form.
You can dowload the score here (pdf file): To see a world
DEADLINE for applications: 31/3/2018
Final list of participants: 15/4/2018
Every applicant will receive a message, telling them if they made the EuroChoir. The complete list of singers will also be published on the Sulasol website.
FAQ
I applied for the EUROPA CANTAT Festival XX in Tallinn, what happens if I get accepted for the EuroChoir and what if I will not?
If you are accepted to the EuroChoir, you'll get the festival participation fee refunded.
If you are accepted to the EuroChoir and you wish to stay with the other singers for the first part of the festival, the cancellation of your accommodation is NOT possible.
If you don't get accepted to the EuroChoir, you just normally attend the festival.

How strict are the criteria: e.g. age and number of participations?
The EuroChoir has certain aims and wants to reach a certain target group. We want to give as many singers as possible the chance to participate and at the same time create a good atmosphere and level of the choir. If you are over 30 or participated three times already, you still can apply, but younger and newer participants will be selected first when other qualifications are equal.
It says 'experienced singers' who can come prepared: how do I know if I am experienced enough?
This criterion is not meant to scare you off. Previous EuroChoirs contained singers who studied music or singing, singers who participated in national youth choirs, but also singers who did neither. To have an idea of the level watch the Youtube playlist of the last sessions.
I cannot get in touch with my national choral organisation: what should I do?
You can apply as an individual member filling in the form and write to info@eca-ec.org or eurochoir2018@sulasol.fi.
What should it be in the letter of recommendation written by the organisation?
•Name and address of the organisation.
•Involvement of the applicant in the organisation.
•Level of choirs sung in (repertoire)
•Signature.
How is the selection done?
A committee consisting of EuroChoir conductors, organisers, ECA-EC Youth Committee and board representatives, will take in account balance in voice, country, age, level, and times singers participated in the choir. Motivation is important and those who apply with the support of an ECA-EC member organisation have privileged position in selection.
How many singers will be chosen?
The aim for the 2018 EuroChoir is to have a choir of about 50-60 singers. Balance between voices will be decided by the committee.
Contact us!
If you (still) have other questions, do not hesitate to reach out to us at Sulasol!
The EuroChoir 2018 is part of the Sing Outside the Box program by the Estonian Choral Association in co-operation with Sulasol, ECA-EC and ZIMIHC. Sing outside the box is funded by the Creative Europe program from the European Union.